New Year's Eve, Re-invented - Family Style
New Year's Eve, Re-invented - Family Style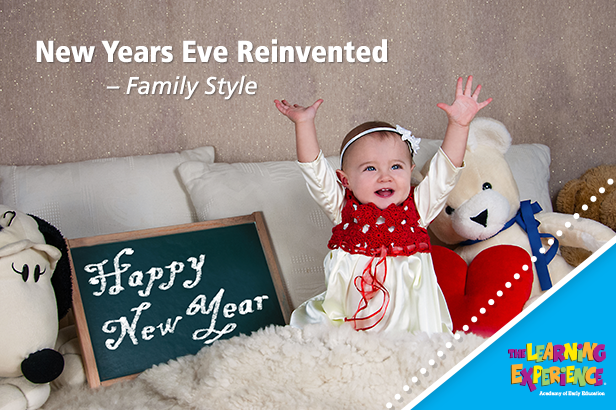 Even though New Year's Eve may look a little different these days because you have started your family, it's a perfect time of year to start creating family traditions and rituals that make meaningful New Year's memories for years to come. Your kids will always recall this "together time" as their most enjoyable gift. Here are just a few ideas to get you started before you visit our Pinterest boards for more fun and engaging activities to help you celebrate at home with your little ones!
https://www.pinterest.com/tlechildcare/new-years-eve-at-home/
Fun Eats – This is a perfect night to prepare some healthy, bite-sized finger foods that the kids will love and that the whole family will enjoy. Visit our "Veggies Made Fun" Pinterest Board for a wide variety of fun and health-conscious ideas to fill the evening.
https://www.pinterest.com/tlechildcare/veggies-made-fun/
A Moment in Time – Fill out a questionnaire with your kids. Answer questions about their favorite mealtime foods, colors, books, toys, friends, bedtime rituals, movies, songs and anything else that really stood out over the course of this year. Save these in a special book and review them next New Year's Eve. This will become a cherished possession for your family!
Photo Booth – Set up a photo booth and maybe let the kids dress up in past Halloween costumes. Hang bright colored-paper (or a plastic tablecloth) on the wall, and don't forget to put up a sign to specify the year.
Scavenger Hunt – The Year in Review – Print out photos from this year's key events. Hide them, write your clues, and then send out the troops! After all the clues have all been found, it's time to review. Depending on the children's ages, you can organize them chronologically or sort them into categories. Reminisce and have fun listening to your kids tell their stories. Kids love this because it's based on their past experiences. With toddlers, you can use the pictures to build on language and move from one-word to two-word phrases. It's a great opportunity to use description to help the children develop new vocabulary.
At the end of the day, we want to be more intentional about spending time together because this strengthens future relational bonds and family ties. Research shows that family traditions and rituals can provide comfort and security to children. Use our Pinterest boards to stimulate your own creative juices, and then, have fun and make it your own!
No matter how you choose to spend your evening, create those memorable times that your children will cherish — and hopefully pass on to their own families someday. Traditions, when done right, lend a certain magic and spirit to our everyday lives.